Cooking for her?
Why not use some aphrodisiac ingredients?
These foods and drinks have held the reputation of being sexual stimulators for centuries. Why don't you include them in the menu? Maybe you can end up getting her tonight as an extra dessert...
List of very lustful ingredients:
• Banana
• Brown sugar
• Caviare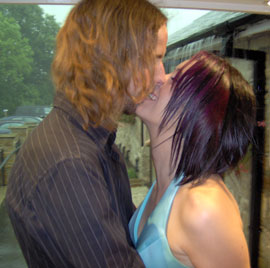 • Champagne
• Cherries
• Chicken
• Chocolate
• Cinnamon
• Fig
• Garlic
• Ginger
• Honey
• Nuts
• Onions
• Pepper
• Seafood
• Strawberries
• Truffles
• Vanilla
...among others.
A suggestion?
An erotic omelette: Mix 4 eggs and 4 tbsp. of cream in a bowl. Add some drops of Tabasco sauce and ½ tsp. of grated ginger and 150 g of caviare. Fry the omelette in a pan with butter and a little garlic to season. Enjoy with a piece of chicken and rice or cooked potatoes.
To drink? Champagne or a Bee's kiss (a cocktail made of... 1/2 oz. honey, 1/2 oz. lemon juice, and 2 oz. rum shaken and served over frappé ice... and of course you can make more if you keep the proportions).
Dessert? Some truffles or strawberries, according to your taste.
Serve this dinner in dim light with a cinnamon-scented candle. After that, pick up the dirty dishes and prepare to get close, talk softly and start caressing her.
Enjoy your reward.